Headline links ... • More detail • Support us • Discussion Forum
TransWilts Railway - Backbone of Wiltshire?
It could be, once again, in Twenty Ten!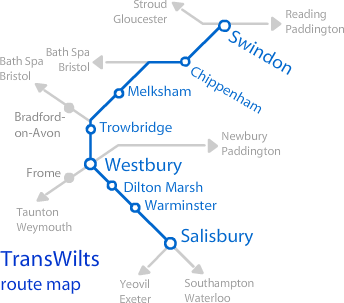 In 2000, Wessex Trains, Wiltshire County Council and the Director of Passenger Rail Franchising reached an agreement that provided a TransWilts train service of five trains each way, each day. As a result, use grew rapidly.
In 2005, The First Group, the Strategic Rail Authority and Wiltshire County Council failed to agree on how to continue a reasonable service, and it was slashed back to just two round trips, starting at quarter past six in the morning, and quarter to seven at night.
For 2010, there is an opportunity for the Department for Transport, the new Wiltshire Unitary Authority, and First Great Western (or South West Trains) to put their heads together and provide an appropriate service to connect the five major urban centres in Wiltshire ... Swindon, Chippenham, Melksham, Trowbridge and Salisbury - and Westbury, Dilton Marsh and Warminster too. These are Trains that will halve some of the public transport journey times between these towns, will cut some car journeys, will relieve some parking and congestion, and will encourage visitors to the area.
A new county ... a new authority ... a new train operator. They have it in their power to provide a reliable, robust, rapid, really useful public transport link.
---
Since the service was cut in 2006, derelict factories have been replace by houses at Melksham Station. What a pity there's scarcely a train service!

The "Save the Train" campaign, other groups and the authorities concerned, agree that an appropriate service is a train at least once every two hours. Rapid growth of the the towns along the route (50% population increase planned by 2026) may require still more frequent and longer trains. However, an interim service improvement of six carefully timed trains per day running from December 2009 will restore the rapid growth that was lost in 2006, then continue to grow at 10% to 35% per annum (current econmonic climate considered, too!)

Current Timetable at Melksham
Weekdays: north at 07:17 & 19:47, south at 06:40 & 19:11
Saturday: north at 09:18 & 15:19, south at 15:45 & 21:34
Sunday: north at 17:21 & 19:52, south at 18:57 (only)

TransWilts - the current proposals
The following service was evaluated for the current timetable (to run from December 2008):
• From Swindon to Salisbury at 06:18 - 09:02 - 12:02 - 15:02 - 17:55 - 18:45
• Returning from Salisbury to Swindon at 06:12 - 07:40 - 10:31 - 13:31 - 16:24 - 18:41
• Serving Chippenham, Melksham, Trowbridge, Westbury, Dilton Marsh and Warminster
• A train WAS available • Train crews were available • There was a path available
Why didn't it happen? County Council will tell you they couldn't find 1p per Wiltshire household per week to help the service for the first years. Yet they spend millions on subsidising buses, many of which carry just one or two passengers. First will tell you it's more profitable to run the earmarked train shadowing a competitor on another line. The Department for Transport will tell you that they will match County funding.

Trowbridge to Swindon - 35 minutes by train or 95 minutes by bus. Which do YOU prefer?


The Save the Train Campaign asks First Great Western, the Department for Transport, and the new Wiltshire Unitary Authority to agree to provide an appropriate service from December 2009. For the good of the people of Wiltshire. For the prosperity and success of the county. And for their own good too.

The well thought out and resourced service proposed for this year would be a practical, excellent start!


Please watch out for - and support - our campaign this year. We are asking for something that is attainable and affordable. The infrastructure is already there. The subsidy requested for a few years is less that the cost of one average house in Wiltshire!

Chippenham to Salisbury - an hour by direct TransWilts train or two hours with a change by bus.



Prepared by:

Save The Train
Website: http://www.savethetrain.org.uk
Contact: Graham Ellis (graham@wellho.net)
Phone: 01225 708225
February, 2009